Biochar and Conservation Burn Workshop at Circle Bar Ranch
NOTE:  The Workshop scheduled for January 19th has been postponed due to rain. The new date is February 9th—same time and same place.
The Sonoma Biochar Initiative is pleased to announce a Biochar and Conservation Burn Workshop and Training, to be held from 9:00 A.M. to 1 P.M. on Tuesday February 9th at Circle Bar Ranch in southern Sonoma County.

By replacing conventional open burn methods with the conservation burn you can significantly reduce emissions (visible smoke and invisible chemicals and particles) from agricultural burns in your community and conserve resources, especially carbon. You will also learn how to produce biochar, a valuable soil amendment, in the process.

Biochar, made when biomass (such as vineyard, orchard, or other agricultural residue) is heated at high temperature in a low-oxygen environment, has been under serious, worldwide study over the last 10 years as a soil amendment.  Biochar has been shown to increase soil tilth, cation exchange capacity, and plant production, and its highly porous structure and adsorption characteristics act as microscopic holding cells for nutrients, moisture, and beneficial microorganisms.

The workshop features both hands-on, in-the-field training as well as a classroom component.  

The morning classroom session will focus on biochar itself, including why it works to improve soil, the benefits of using it in both animal and plant agriculture, how to properly condition it prior to use, and how to apply it. Conservation burn theory and methodology will also be covered, including safety and permitting considerations, pile construction, burn management, and maximizing production of biochar. 

The late morning/early afternoon session will include hands-on field training using several large piles of vines and vine trimmings. 

A portion of the proceeds will support programs at both the Sonoma Biochar Initiative and the Sonoma Ecology Center. Please bring a bag lunch or snacks if you will need nourishment during the event.

Who should attend:

Anyone with wood, stalks, or brush surplus who normally does an open burn, or who is interested in biochar, such as:

Vineyard, orchard and row crop managers
Farmers                   
Land managers              
Students                            
Ecologists  
Forestry and tree contractors              
Fire Service Personnel

And anyone interested in learning more about biochar, a remarkable soil amendment that helps to sequester carbon.  

Field training attendees who want to participate should come ready to do some physical labor to help construct, ignite, and burn piles, and to help with fire safety. You must bring work gloves, eye cover, and heavy duty boots if you want to participate in the field training.
_________________________________________________
SBI Education at the Heirloom Exposition
SBI was well represented with a double booth and workshop area at the recent Heirloom Exposition at the Sonoma County Fairgrounds in Santa Rosa , teaching hundreds of attendees about biochar, bokashi, DYI kiln technology, the Sonoma County Biochar Project, and the Conservation Burn Program. Here are a few photos from the wonderful event: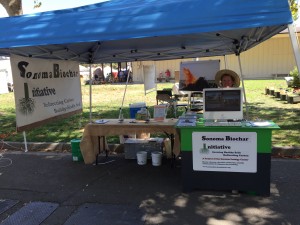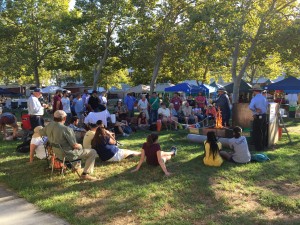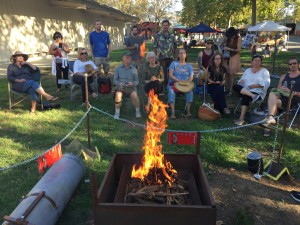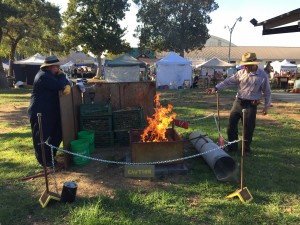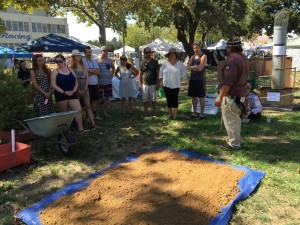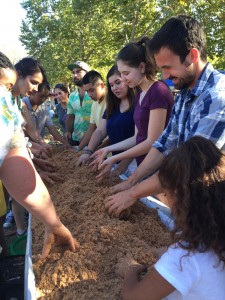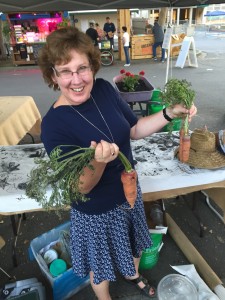 _____________________________________________________
Native American farming practices and permaculture gardens begin with the soil. Learning how to build the soil ecology to benefit other environmental systems can be rediscovered and utilized by looking into our past agriculture models as well as more modern composting techniques.
Through a collaboration between the Sonoma Ecology Center, The Sonoma Biochar Initiative, Whole Foods Market, and Cuauhtemoc Villa of EM of California, we recently held 4 FREE classes on Indigenous Farming Practices (including biochar use)  at the beautiful Sonoma Garden Park in Sonoma. Below are a few photos from the first class:
____________________________________________________________
The Sonoma County Biochar Project, a partnership between the Sonoma Ecology Center, Sonoma Biochar Initiative,  Sonoma County Water Agency, Goldridge RCD, Sonoma County RCD, Swallow Valley Farm, Banchero Tree Service, and New England Biochar, recently presented its first of three outreach workshops showcasing the biochar production unit—the Adam-Retort—and other operations at Swallow Valley Farm in Western Sonoma County. Below biomass provider Matt Banchero and Project manager David Morell present in front of the Adam-Retort.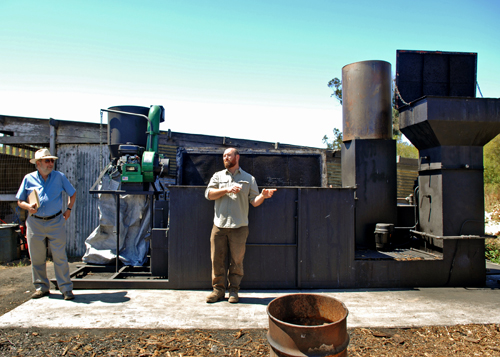 _______________________________________________
The Sonoma County Biochar Project has now distributed biochar to all three of our farm partner locations: Green String Farm in Petaluma, Oak Hill Farm in Sonoma, and Swallow Valley Farm in Valley Ford. Below are some photographs from the delivery of the the biochar to Green String and Oak Hill Farms, and the spreading of a 50/50 biochar and compost blend on a 1/4 acre pasture at Swallow Valley Farm.  Compost only was spread on another 1/4 acre control pasture next to the biochar plot. The biochar was made locally using an Adam-Retort purchased with funds received from a USDA/NRCS Conservation Innovation grant and the Sonoma County Water Agency.
____________________________________________________________________________ The following is a recap of the CDFA meeting in Sacramento where Peter Hirst represented SBI and New England Biochar in his presentation advocating for statewide field trials in California. This meeting, held in a conference room at the CDFA office building, was arranged by Dr. Amrith Gunasekara, Science Advisor to Secretary Karen Ross, as a direct result of our previous meeting with her and her staff. The meeting, to hear testimony and examine the evidence for supporting field trials and the wider use of biochar in agriculture, was attended by 4 of the 5 Advisory Panel members, two Subject Matter Experts, three additional CDFA staff, as well as representatives of the NRCS, the North Coast RC&DC, Phoenix Energy, the Sonoma Biochar Initiative (Susan and I), and three other biochar advocates that presented on various aspects of biochar science, policy, and its current use in farming. These presenters were Dr. Johannes Lehmann of Cornell (via GoToMeeting), Jim Boyd of Clean Tech Advocates, and Dr. Douglas Beck, GIS Specialist and Agronomist from Monterey Pacific, Inc., a large grape farming operation on the Central Coast that is currently experimenting with biochar.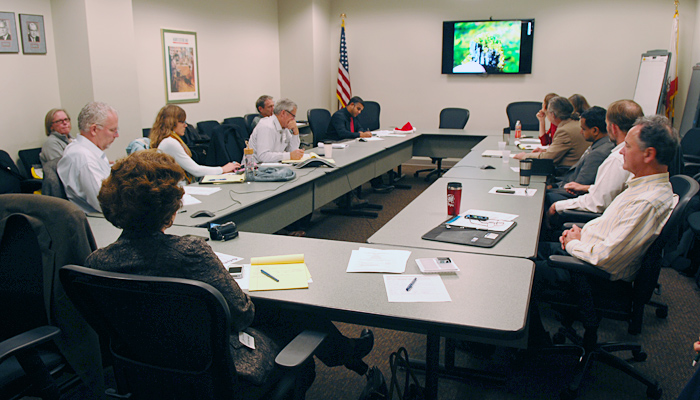 Three of the presenters made eloquent presentations and excellent cases supporting the need for statewide California field trials—as opposed to research—as the next important step needed to determine biochar's efficacy in various agricultural settings. Dr. Beck asked for help with a specific project using mobile technology on a specific CalTrans clearing job. The term "field trials" as opposed to "research", is an important differentiation when applying for CDFA grants, and this key tip was offered by the NRCS rep. Dr. Beck outlined their current work with biochar, which they have been buying from Cool Planet and using in field trials.  As one of the largest and most influential grape growers in the area they strongly feel that biochar use is potentially an important soil amendment and they fully supported additional field trials around the state.  Peter's presentation, which included an overview of available technologies, a sampling of current projects and initiatives statewide (specifically SBI-sponsored and conducted projects) was very well received and sparked many questions and a discussion that energized the room and visibly engaged all in attendance.  Dr. Lehmann laid out the hard scientific evidence and benefits of biochar, while Jim Boyd made an effective plea for CDFA to take biochar much more seriously by taking the lead in supporting and advocating efforts to prove its efficacy within its statewide jurisdictions, and to help remove policy barriers to adoption. Mr. Boyd also asked for more integration and cooperation between the CDFA and the Placer County forest biomass plan that will be generating thousands of tons of biochar once their approved gasification facility comes on line.  Greg Stangl of Phoenix Energy put an exclamation point on Jim Boyd's presentation by citing examples of the barriers he has and is facing in getting mid-sized projects permitted and connected to the grid in California, and he represented biochar producers in an engaging and very effective way. So this discussion was well rounded and very effective at establishing biochar as something the State needs to become more involved with both as a drought mitigation tool as well as for its many other positive attributes for agriculture.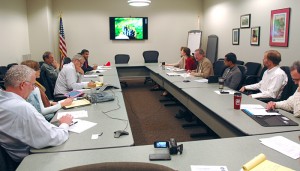 Gloria Flora, patched in via GoToMeeting, also added an important point – without saying so explicitly - regarding California's lagging behind the rest of the country and the EU in biochar research and field trials, and the opportunities that building a more robust program at UC Davis and elsewhere could bring. She effectively pointed out that given California's reputation as a climate and agricultural leader it should be leading, not following, other states and countries in moving biochar into the mainstream. Each presenter was requested to indicate what they would like from CDFA—what they were asking of CDFA—and at the end of the meeting Dr. Gunasekara summarized a number of these that he thought CDFA could support: 1) Organizing and sponsoring a California "symposium" on biochar sometime next year to include a wide range stakeholders. This could be focused at least partly on developing criteria for field trials as well as for promoting the Conservation Burn program. 2) To emphasize and advocate for IN-THE-FIELD ACTIONS as opposed to more academic white papers 3) To help us establish partnerships with UC Extension staff that will help us establish best-practices and get the word out to farmers Other takeaways were: 1.  There were many suggestions of additional potential funding sources for field trials that can be researched. 2. Panel procedures are such that meetings occur every other month.  Amrith is responsible for pulling together notes from each meeting into minutes for the next meeting.  Minutes are usually not posted until a few days before subsequent meetings, so things at the level of this Panel progress slowly. We should not expect immediate action or (necessarily) a working date for the Symposium any time soon. 3.  In order to move our agenda along at the CDFA, we can and should work closely with Jim Boyd to assess follow up actions to this meeting. Overall, Peter, Susan and I came away from the meeting excited and energized at what transpired, and this excitement was palpable in others in the room.  This was by far SBI's most important presentation to date with potentially the most impact, and Peter's presentation was very well received.  So thank you, Peter, for significantly moving the proverbial biochar ball down the field, and I personally feel 2015 will be a watershed year for biochar education and interest in many different sectors, with agriculture leading the way. Raymond Baltar /Director/SBI