We were FINALLY able to hold our Biochar 101 workshop and Conservation Burn training, and the attendees—mostly vineyard managers and workers—learned why biochar is worth creating when conducting an open burn and how to significantly reduce the smoke pollution while doing so.  Below are a few photos from the event showing Cuauhtemoc Villa discussing the soil microbial connection to biochar and discussing pile management and biochar preparation..  We may be holding one more training towards the end of April.  Please contact me if you would like to attend this event.  Raymond Baltar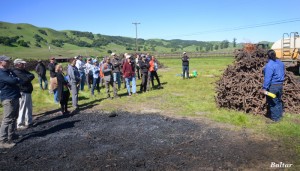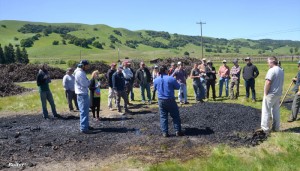 Testimony and photos below from Patrick Norton, Assistant Vineyard Manager, Chalk Hill Estate Vineyards:
"Thank you again for a great seminar last week. Your educational and inspirational biochar workshop has changed the way I look at burning and soil fertility.  Much appreciated! Conservation burning is so much cleaner and more effective. I will never burn conventionally again if I can avoid it.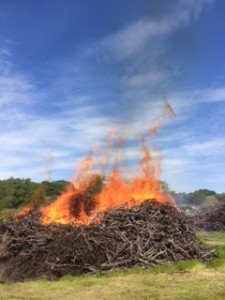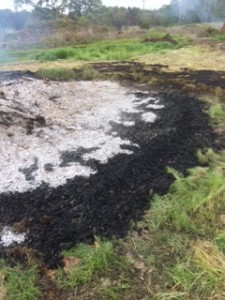 Grant News
Sonoma Ecology Center, Sonoma Biochar Initiative and UC Riverside Awarded Biochar Research Grant from California's Department of Water Resources!
Sonoma Ecology Center and the Sonoma Biochar Initiative, in collaboration with Dr. Milt McGiffen of UC Riverside, several RCD's, and farmers up and down the state, have been awarded a research grant to conduct major biochar field trials in California. We are seeking definitive scientific data to determine whether biochar use can save farmers money through water savings. We are planning to start the field trials at 3 farms this Spring. 
Lastly, we have applied to the Bay Area Air Qualify Management District's (BAAQMD) educational grant program to fund emissions research that would provide hard data showing the differences between the Conservation Burn technique we have been developing vs a typical open agricultural burn. During a recent Farm Bureau presentation on open burning and other air emissions regulatory policies the BAAQMD's representatives expressed an interest in the Cconservation Burn and we have invited them to attend our upcoming training (see below).  We believe that obtaining the hard data differences between the traditional and conservation burn practices would help push policy changes and broader farmer support for this simple yet dramatic way to reduce pollution while also producing biochar.
_____________________________________________________
Biochar for Carbon Removal from the Atmosphere  (From the IBI Website)
In the October 21 issue of Nature Communications Woolf et al demonstrate that biochar could play an important role in removal of carbon from the atmosphere, which is increasingly recognized as essential to meeting global climate targets.  Woolf compared biochar-bioenergy systems with bioenergy alone and gasification-based bioenergy with carbon capture and storage, known as BECCS. In its 2014 report, IPCC flags BECCS as the only major land-based approach expected to draw down atmospheric carbon dioxide. However, Woolf demonstrates that biochar-bioenergy systems that sequester carbon in agricultural lands could reduce carbon sequestration costs, allowing earlier adoption of a more aggressive policy of actively removing carbon from the atmosphere to avert dangerous climate change. Biochar-bioenergy competes favorably with BECCS at lower carbon prices, and where biochar addition to soils delivers significant increases in crop yields. Thus, effective use of biochar as a carbon removal strategy relies on identifying those sites that are most responsive to biochar.
This requires similar knowledge systems as those commonly in place around the world to guide fertilizer application.  Averaged across all published scientific experiments, biochar increases crop yields around 20% with application rates often exceeding 10 t/ha. However, applications of less than 5 t/ha can increase crop yields by over 50% in certain types of soils. Even highly productive agricultural lands contain patches of degraded soils that would benefit from biochar application. Precision agriculture can deliver biochar to specific field locations where it can provide the greatest soil benefits.
Biomass energy in combination with carbon sequestration has enormous potential as a carbon removal strategy.  However, biomass is a widely dispersed resource best suited to small-scale, distributed bioenergy systems. In contrast, sequestration of carbon dioxide is necessarily a large, centralized operation to enable separation and injection of carbon dioxide into carefully selected geological deposits.  This mismatch in scale between bioenergy production and carbon dioxide sequestration is a challenge for gasification-based BECCS.  The relative simplicity of producing and sequestering biochar results in biochar-bioenergy systems that can be built at modest scale and widely distributed.  Their small size reduces the risk of deploying new technology, eases financing, and speeds adoption.  Biochar-bioenergy systems can play an important role in a global strategy to actively remove carbon from the atmosphere.
_____________________________________________________
Biochar Field Production Added as an NRCS Conservation Enhancement Practice
The Natural Resources Conservation Service (NRCS) recently announced an amendment to the Conservation Stewardship Program (SCP), adding biochar production from woody residue as a conservation enhancement practice.  This practice supports and encourages the production of biochar following fuels reduction harvests or post-wildfire forest regeneration.  You can download the PDF on the here:  e384135z
This conservation enhancement practice officially defines and supports work done by SBI over the last 4 years training farmers and foresters about the Conservation Burn technique that reduces smoke pollution while also producing biochar, as well as work done by Kelpie Wilson working with forestry professionals in Southern Oregon.
_____________________________________________________
Biochar-Enhanced Chicken Manure Pellets Now Available:
In collaboration with Weber Family Farms in Petaluma and Pacific Biochar, The Sonoma Biochar Initiative and Sonoma Ecology Center are now offering buckets of biochar-enhanced chicken manure pellets as thank-you gifts for donations during a special fundraising campaign.  The chicken manure is an OMRI-listed organic manure that is high in nitrogen and blended with biochar made from softwoods in the Sierras.
This fantastic soil amendment has been pelletized for easy application and can be used anywhere in your garden. We are offering 2-gallon buckets of this prime fertilizer blend as a thank you gift for a suggested donation of  $20, or two for $30. This special blend is available for pickup by special arrangement at the Barn at the Sonoma Garden Park, 19996 7th St E, Sonoma, CA 95476, or  at Sonoma Ecology Center offices in the Sonoma Developmental Center.
For more information call Raymond Baltar at:  707 291-3240
We want to thank Mike Weber of Weber Family Farms and Josiah Hunt of Pacific Biochar for their generous donation of goods and services in support of this fundraiser.
_____________________________________________________
Biochar Becoming Integrated with Local Compost and Fertilizer Production
Since the closing of Sonoma Compost at the Sonoma County Landfill there has not been a dependable local source of biochar and biochar/compost blends where gardeners and farmers could pick up a yard or even a truckload of material.  This has now changed!
Other local compost and fertilizer companies have caught on and are now using biochar to improve their processes, and they are creating farm-friendly biochar products while doing it. This is good news for local farmers and good news for clean air. As SBI has promoted in our educational outreach and demonstrated in our field trials, biochar works better when combined with composts and manure. And the world benefits from reduced greenhouse emissions at the same time This has been echoed in a stream of research published in scientific journals which explain that biochar can improve the composting process by reducing nitrogen off-gassing, and while stewing in the compost environment, the biochar is also improved with humic acids and plant nutrients. A win-win. And when the co-products are used in farming, the plant growth response is better than from either product alone. You can follow the research article links in the bibliography below* to learn more about the benefits to composting with biochar and the improved products created. Here is a list of the local companies that we are aware of which have begun to use biochar in their processes, and offer their biochar amended products to the public: Weber Family Farms 395 Liberty Rd. Petaluma, CA 94952 (831) 241-2500 *Organic chicken manure & biochar fertilizer pellets available. Wholesale only. WM Earth Care 8950 Redwood Highway Novato, CA 94948. (415) 892-2851 *Organic compost and biochar blends available. Andy Poncia Trucking / Poncia Fertilizer 597 Wilfred Ave. Santa Rosa, CA 95407 (707) 481-8052 *Organic compost and biochar blends available. Wholesale only. Sonoma Soil Builders 5900 Pruitt Ave. Windsor, CA 95492 (707) 838-7645 *Organic compost and biochar blends available. Soil blends with biochar available. We called WM Earth Care to investigate. Apparently they keep a 60/40 (by volume) organic compost/biochar blend in stock, which is available to general public at $64 per cubic yard. The other facilities listed above had a preference that customers call them direct for pricing. At the time of calling, the biochar used at all the facilities listed above was supplied by Pacific Biochar. *Bibliography
Li, Shuqing, et al. Linking N2O emission from biochar-amended composting process to the abundance of denitrify (nirK and nosZ) bacteria community.  AMB Expr (2016) 6:37 DOI 10.1186/s13568-016-0208-x
Steiner, C., Das, K. C., Melear, N. & Lakly, D. Reducing nitrogen loss during poultry litter composting using biochar. J. Environ. Qual. 39, 1236–1242 (2010).
Wang, C. et al. Insight into the effects of biochar on manure composting: Evidence supporting the relationship between N2O emission and denitrifying community. Environ. Sci. Technol. 47, 7341–7349 (2013).
Jindo, K. et al. Biochar influences the microbial community structure during manure composting with agricultural wastes. Sci. Total Environ. 416, 476–481 (2012).
Kammann, C. I. et al. Plant growth improvement mediated by nitrate capture in co-composted biochar. Sci. Rep. 5, 11080; doi: 10.1038/srep11080 (2015).
Jindo, K. et al. Chemical and biochemical characterisation of biochar-blended composts prepared from poultry manure. Biores. Technol. 110, 396–404, (2012).
Glaser, B et al. Biochar organic fertilizers from natural resources as substitute for mineral fertilizers Agron. Sustain. Dev. (2015) 35:667–678
_____________________________________________________
Biochar Workshops and Conservation Burn Training
Here are a some photos from past trainings:
Four staff members from Sonoma Ecology Center's Conservation Burn program trained Cakebread Vineyards staff, Wolf Vineyard management staff and workers on this top-down burn technique. Over a two-day period 12 large piles were burned cleanly, yielding about 15 yards of biochar to be used in the winery's garden next fall. The biochar will be crushed and added to compost for seasoning over the summer.
_____________________________________________________
And as a reminder of how NOT to burn, here is a pile burned in the typical way— 
photographed recently in the Sonoma Valley.
 _____________________________________________________
_____________________________________________________
_____________________________________________________
_____________________________________________________
_____________________________________________________
Native American farming practices and permaculture gardens begin with the soil. Learning how to build the soil ecology to benefit other environmental systems can be rediscovered and utilized by looking into our past agriculture models as well as more modern composting techniques.
Through a collaboration between the Sonoma Ecology Center, The Sonoma Biochar Initiative, Whole Foods Market, and Cuauhtemoc Villa of EM of California, we recently held 4 FREE classes on Indigenous Farming Practices (including biochar use)  at the beautiful Sonoma Garden Park in Sonoma. Below are a few photos from the first class:
Save Save Save Save Save Save Save Save Save Save Save Save Save Save Save Save Save