We want to thank the amazing cross section of people  who attended and contributed to SBI's recent Biochar Forum at Shone Farm. Representatives from local RCD's, NRCS, UC Cooperative Extension, a variety of farms, SCWA, Fire Safe Councils, the Sonoma County Forest Working Group, the County of Sonoma,  two of the largest biochar producers on the West Coast, and many others just interested in how biochar fits into a low-carbon economy, shared ideas and ways to use biochar to solve common problems. Special thanks to Michael Maguire from the Governor's Office of Planning and Research for his update on the exciting grant projects and efforts to quantify biochar's benefits that are supported through state funding, to Susan Haydon of Sonoma Water, and to Shone Farm for the use of their beautiful space.

Charlie McIntosh of Pacific Biochar presents recent results from SBI's
DWR grant project at a vineyard near King City, Ca.
We are in the process of building a new coalition to scale biochar education and use both locally and throughout the state, so stay tuned. We will be holding a number of additional meetings in 2019 so if you missed this one you will have other chances to join this growing group of problem solvers seeking a better way to convert our bounty of surplus biomass resources and put them to better use as biochar in agriculture and elsewhere.
___________________________________________
Dry Creek Valley Biochar/Burn Training
On May 23rd we held a biochar/conservation burn training in the Dry Creek Valley near Healdsburg, co-organized by Genevieve Taylor of Ag Inno-vations and Susan Haydon and several great associates from Sonoma Water. A big thank you to Marshall Turbeville of Geyserville Fire and CalFire for his valuable knowledge about fire safety and for providing the water we needed to preserve the carbon.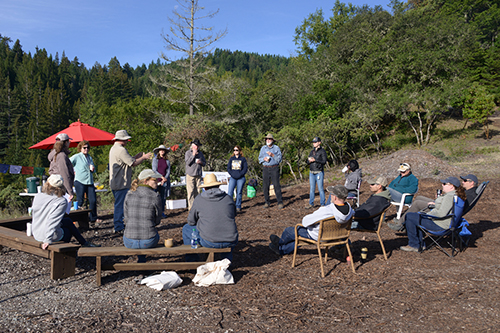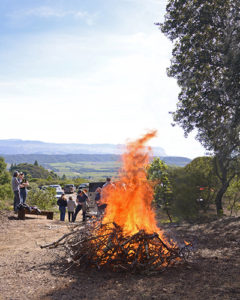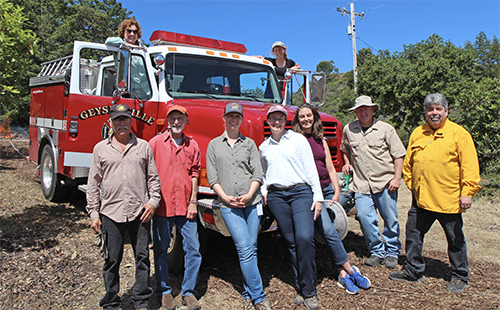 We hope to do many more of these workshops next burn season to educate landowners and managers in this simple technique that reduces smoke, conserves valuable carbon that can enhance farm soils while also keeping it out of the atmosphere.
_____________________________________________
New Climate Change Documentary Ice on Fire Soon To Air on HBO
In mid-2017 the biochar production facility in Piercy, California that was being operated by the Redwood Forest Foundation, Inc. (RFFI) was visited by a film crew from Tree Media Productions working on a film project called Ice on Fire, co-produced and narrated by Leonardo DiCaprio and his father George DiCaprio. This film, which starts streaming on HBO on Tuesday June 11th, describes the serious climate change challenges we now face but also highlights a number of positive strategies we can take to help "drawdown" greenhouse gasses from the atmosphere including biochar production and use and sustainable forestry management/reforestation-two activities RFFI has been pioneering on California's north coast.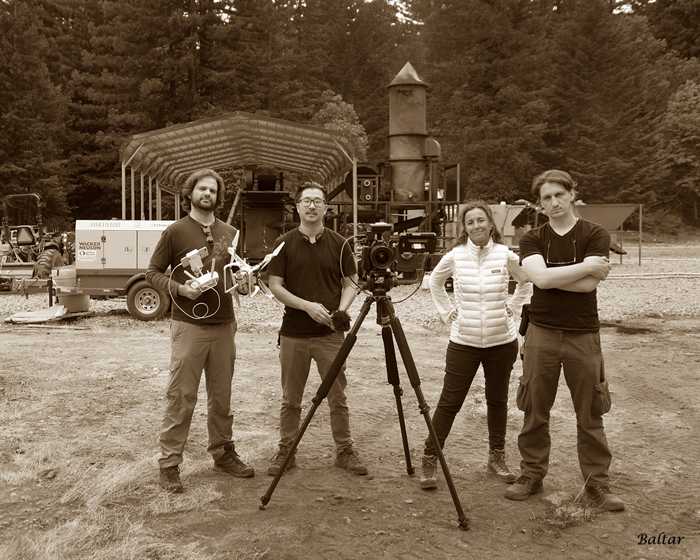 Tree Media Film Crew on location at RFFI's biochar production site.
As part of the promotional activities connected to the release of the film, the Redwood Forest Foundation is developing two projects to be part of a large-scale "Capturing Carbon" fundraising campaign the filmmakers are setting into motion. This first is a large-scale effort to plant 400,000 trees around northern California, giving a special emphasis to fire-ravaged zones; the second project, planned in collaboration with SBI, the California Biochar Association, the Sonoma Ecology Center, and Schatz Energy Research Center at Humboldt State University, will supply up to 4500 tons of biochar to agricultural producers and restoration and reclamation projects over the next three years, conducting a life-cycle analysis of the project and measuring biochar's effectiveness in regionally-specific applications. Stay tuned for more information on these efforts!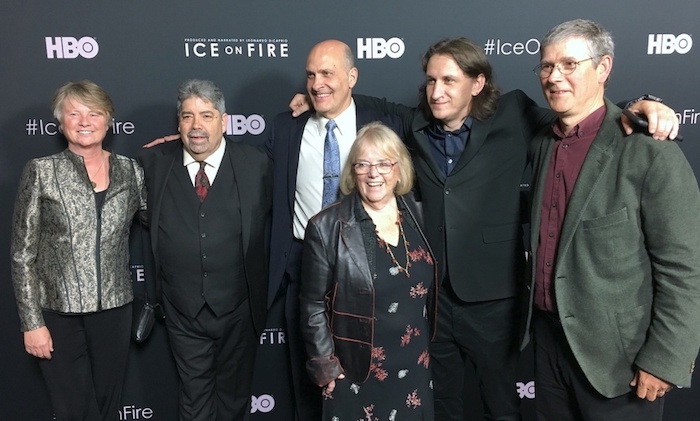 The Redwood Forest Foundation was well represented at the recent LA Premiere of Ice on Fire. Right to left in photo above: Chief Forester Linwood Gill, cinematographer Harun Mehmedinović, Communications / Fundraiser Extraordinaire Lin Barrett, President and CEO Mark Welther, & Raymond Baltar (RFFI's North Coast Biochar Project Manager). Also pictured at far left is Biomimicry superstar Janine Benyus who is also featured in the film.
This beautifully photographed and edited film, which was accepted at the recent Cannes film festival and just premiered at the LACMA in Los Angeles on June 5th, is another strong voice documenting our rapidly deteriorating ecosystems. The emphasis, however, is on solutions, profiling a number of existing, scalable strategies that together may help to blunt the worst effects of climate change.
_____________________________________________
Emissions Testing
We are continuing to work with The San Luis Obispo Air Pollution Control District (SLOAPCD) to find the money needed to fund our air emissions proposal that will measure the differences between a standard burn pile and a conservation burn pile.  While the visual differences are obvious to those who attend one of our workshops, we need the hard data to convince all of the air districts to make the technique a best practice. Discussions are ongoing with contacts at CAPCOA and CARB and we are hoping to secure this funding by the next burn season.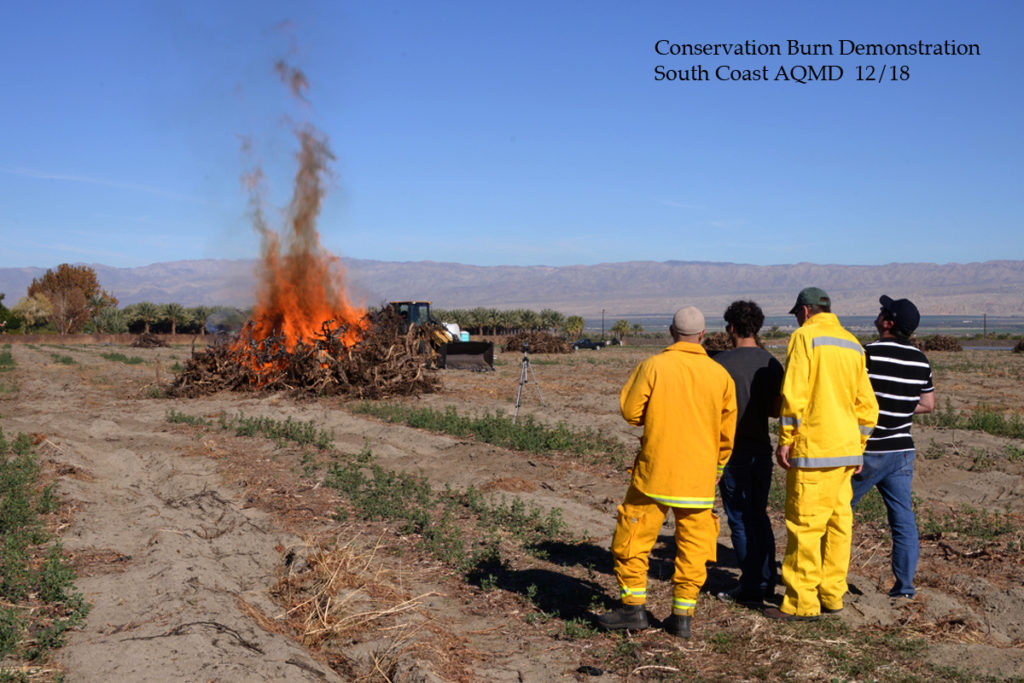 Last December we were retained by the South Coast AQMD to oversee two days of conservation burning compared to conventional burn piles so they could monitor the technique. They used a drone and some ground-based equipment to measure emissions and we have not yet received their report. We are looking to do additional testing by East Bay company Best Environmental as part of our proposal to the SLOAPCD.
_____________________________________________
Biochar/Burn Workshops on the Central Coast
Our two recent Biochar Conservation Burn Workshops in Paso Robles and Soledad were very well received and participants included winery owners, vineyard managers, students, entrepreneurs, air district staff, RCD representatives, and CalFire personnel.  We want to thank the SLOAPCD, the Monterey Bay ARD, J Lohr and Hahn Family Wineries, and the Vineyard Team for helping with all the logistics and for their enthusiasm for the information we passed along.  In Paso Robles we were able to conduct a standard burn compared to a conservation burn, side by side, and the photo below shows the obvious difference.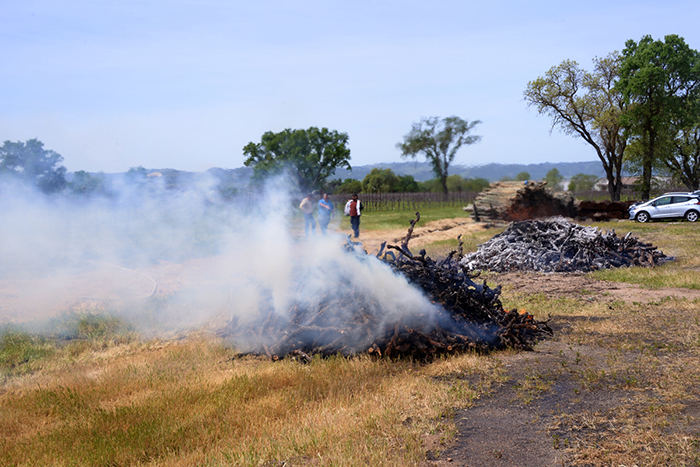 _____________________________________________
We have some exciting plans for CBA this year and we need your support to help expand our efforts to scale biochar production and use. Check back soon for more details.  Go to www.calbiochar.com and click on the donate button to make a tax deductible contribution.  The Sonoma Ecology Center, a 501C3 with a 25-year track record,  is our fiscal sponsor. Thank you in advance!
_____________________________________________
_____________________________________________
North Coast Biochar For Sale
This biochar, produced by the Redwood Forest Foundation from surplus tanoak coming out of the Usal Forest as part of their sustainable forest management program, is 84% carbon and just 5% ash. 
For more information contact raymond@sonomabiocharinitiative.org or call 707 291-3240.

 ______________________________________
Major California Biochar Research Grants Awarded
The California Strategic Growth Council has awarded two significant grants for biochar-related research. Ken Alex, Director of the Governor's Office of Planning and Research and SGC Chair said, "The SGC research grants are designed to fill gaps in our knowledge about some of the most promising climate change solutions, and move them more quickly to fruition."
Biochar production and use was highlighted in the most recent IPCC climate change report as one of the least expensive and easily scaled methods of drawing down carbon from the atmosphere, and this recognition has helped bring the biochar story to the forefront of many climate change mitigation discussions and actions. There is, however, much research that still needs to be done to better characterize which types of biochar will persist the longest in varying agricultural soils, under what type of farming protocols, as well as creation of a standardized system for rating biochars based on a set of common criteria and characteristics. Gaining acceptance from the farming community for biochar production and use using surplus biomass will also be critical for scaling its use, and this will also be studied. These are some of the gaps in our knowledge about biochars that should be better understood and hopefully answered once this climate-change focused research and field trials are completed.
Congratulations to Benjamin Z. Houlton of the UC Davis Muir Institute and collaborators who will be working on a $4.7 million grant project entitled "CALIFORNIA COLLABORATIVE ON CLIMATE CHANGE SOLUTIONS: WORKING LANDS INNOVATION CENTER—CATALYZING NEGATIVE CARBON EMISSIONS."
"The Working Lands Innovation Center's objective is to scale and sustain CO2 capture and GHG emissions reductions by deploying a suite of cutting-edge soil amendment technologies, driving substantial co-benefits for California growers, ranchers, Tribes, communities, the economy, and environment. This project will increase understanding of the mechanisms and potential for carbon sequestration in soil."
More information on this grant can be found here:  http://sgc.ca.gov/programs/climate-research/docs/20181221-CCR_Summary_2019CCR20007.pdf
And congratulations to Gerardo Diaz of UC Merced and collaborators who will be working on the $3 million grant project entitled "MOBILE BIOCHAR PRODUCTION FOR METHANE EMISSION REDUCTION AND SOIL AMENDMENT."
"The overall goal of this proposal is to determine how biochar can be produced and used in a closed cycle agricultural application to reduce GHG emissions, ameliorate agricultural waste disposal problems, improve the quality of life in low-income and disadvantaged farming and adjacent communities, and identify means to gain acceptance among farmers of small-scale biochar production and use as a sustainable best practice for California agriculture."
More information on this grant can be found here:  http://sgc.ca.gov/programs/climate-research/docs/20181221-CCR_Summary_2019CCR20014.pdf
__________________________________________
On Grading Biochar

The USBI Biochar Conference, held last year in Wilmington, Delaware, was a great success, bringing together attendees from all sectors of the biochar industry along with some representatives from industries just waking up to biochar's possibilities. While there were many technical presentations given by scientific researchers showing biochar's amazing and diverse variety of benefits in agriculture, there was a pronounced focus last year on the use of biochar as an environmental remediation/filtration tool for stormwater runoff, wastewater treatment, and heavy metal pollution treatment.
Biochar Definition, Categories, Testing Protocols, and Claims
Ron Alexander, a consultant who has been instrumental in developing standards for the compost industry as it has developed over the last 40 years, lead an important discussion on what he sees as the need to standardize and refine the production, definition, testing protocols, and product claims for biochar. He feels that this will be critical for the industry to scale and so that consumers can understand the value proposition for its use and can be assured that a given type of biochar will produce known and replicable results. Most of the workshop attendees agreed and a good discussion took place.  While no exact path forward was agreed upon, I do believe this discussion made an impact and that those in the room (and now all of you reading this) will support a push for establishing a set of sensible standards beneficial both for the industry as well as for consumers.
IBI's biochar certification standard, and its European counterpart, the European Biochar Certificate, require a minimum of 60% carbon content to be considered biochar.  California, one of the few states to adopt a legal standard, adopted this minimum definition: "Biochar means materials derived from thermochemical conversion of biomass in an oxygen-limited environment containing at least 60 percent carbon." In addition, the only claims that can be made on a bag of biochar in California are that it helps retain soil moisture and nutrients. While there is evidence that biochar can and does play a much bigger role in improving soil health and the plant production that comes from it, additional claims will only be allowed once a rigorous and replicable set of standards, and the scientific data backing them up, are developed.
Most other states do not yet have any legal definition for biochar, however AAPFCO (the Association of American Plant Food Control Officials) is an influential organization that states look to for fertilizer and soil amendment standards, and any product definitions or claims must pass muster with them or risk being labeled "adulterated", which can lead to products being pulled from shelves. In general, the fewer claims printed on a bagged soil amendment product the better, and only claims backed up with peer-reviewed research should be included. Any claim should be backed up by at least 5 peer-reviewed studies (ideally using the same testing methods and biochar—which is not the current practice), and submitted to AAPFCO for approval.   Certain words can also be problematic, such assoil health, so word choice will also be critically important when making claims to those of us selling biochar moving forward.
Unfortunately, the only biochars that can fit the minimum 60% carbon definition are made from feedstocks high in lignin, such as woody residues from forestry operations and some dense crop wastes.  However, there is great interest and current experimentation around the world in pyrolyzing materials such as manures, poultry bedding, and other problematic waste streams to create biochars that contain much lower amounts of carbon, but that could still be considered forms of biochar valuable for certain applications.
A proposed model was discussed that would sub-categorize a range of biochars as containing 10%, 30%, and 60% carbon, and though there was some disagreement the general consensus was that broadening the definition could help scale the industry more quickly than keeping the 60% number. However, I would like to propose a slightly different way to parse biochar into 5 carbon categories, then using production temperature, ash content and H:C ratio to further define general qualities potentially useful for specific applications.
Level 5: >80% Carbon biochar from "waste" biomass
Level 4: 60% to 79% Carbon biochar from "waste" biomass
Level 3: 40% to 59% Carbon biochar from "waste" biomass
Level 2: 20% to 39% Carbon biochar from "waste" biomass
Level 1: <20% Carbon biochar from "waste" biomass
Regarding the sub-categories, there are indications that the ash content of the biochar and the temperature it was produced at plays a significant role in a given biochar's effectiveness at adsorbing certain heavy metals, and that biochars made at higher temperatures are also more effective when used for this purpose. There are also indications that biochar made in the 400C to 600C temperature range may be best used for agricultural uses. The H:C ratio, used to indicate the stability of the carbon and its resistance to degradation, is also an important characteristic that needs to be supplied to consumers.
Some producers can produce carbon from municipal solid waste, tires, or other potentially toxic waste streams, and I strongly believe we as an industry need to make sure the legal definition of biochar includes ONLY the use of clean waste streams for biochar to be applied on land for food production. However, many potential uses for the kind of carbon coming from these types of waste materials, such as water filtration, as a replacement for sand in concrete,  or for many other other industrial uses.
Other important points that were discussed included:
Any claims made about biochar (Increases soil moisture content, reduces nutrient loss, improves soil cation exchange capacity, increases plant production, supports beneficial microbial populations, etc.) must be accompanied by an application rate that should be used to achieve the claimed effect, otherwise such claims will not be allowed on a bagged product or in advertising. For microbial claims, a company must be able to prove which specific type of microbial species will be supported.  Other characteristics that could/should be identified for the consumer include feedstock type used during production, particle shape and size, nutrient release dynamics, and percentage of biochar included in any soil blends. The biochar industry has matured to the point where developing and adhering to a rigorous set of standards will be critical to scaling its use.
Universal biochar testing protocols must be developed so that results from different labs yield comparable results for a number of agreed upon characteristics. Testing costs must be reasonable and affordable for producers.
Raymond Baltar
______________________________________________________
Biochar Field Day
The California Department of Food and Agriculture's (CDFA) Fertilizer Research and Education Program (FREP) recently teamed up with University of California, Davis, to host a Biochar Field Day at UC Davis' farm location outside of Winters. The event brought together researchers, industry representatives and other interested stakeholders to discuss the feasibility of biochar use in agroecosystems. Presentations highlighted research, showcased available resources, and provided up-to-date information on biochar use in California agriculture. We look forward to working with CDFA to sponsor other such events throughout California highlighting the work being done by UC Merced, UC Riverside, Butte College, and many others.  Here are a few photos from the event: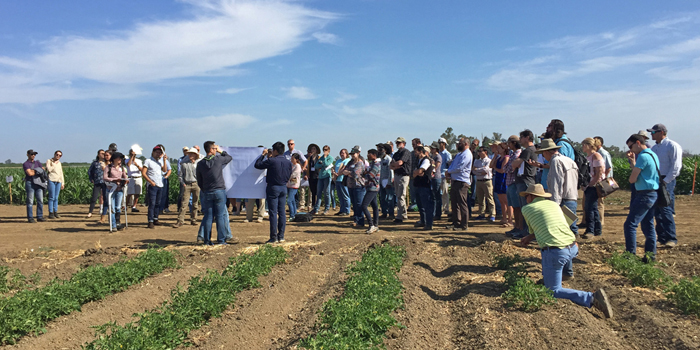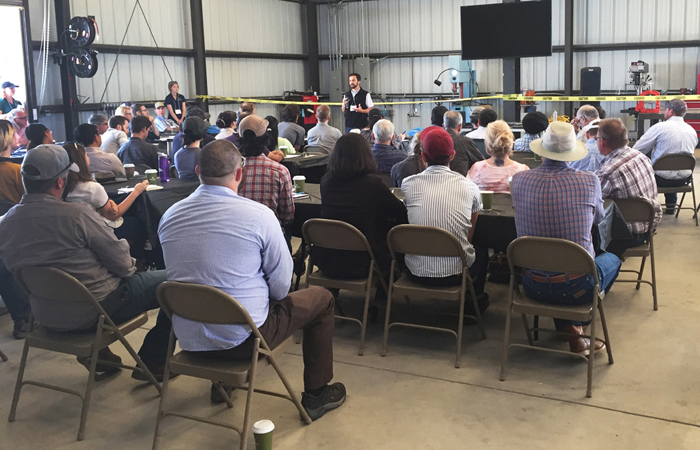 ______________________________________________________
New Guidelines for On-Farm Biochar Production Using Simple To Make and Use Flame Cap Kilns
Here is a great new study conducted by Oregon's Kelpie Wilson and the Umpqua Biochar Education Team.  Check it out!  RB
Deliverables from the NRCS Conservation Innovation Grant: On-Farm Production and Use of Biochar for Composting with Manure
This grant was awarded to South Umpqua Rural Community Partnership (SURCP) in 2015. The grant was carried out by Wilson Biochar Associates and the Umpqua Biochar Education Team (a committee of SURCP) in conjunction with farmers and other volunteers.
During the course of this three year project, we manufactured more than 30 kilns and made about 75 cubic yards of biochar that got used in cattle barns, goat barns, rabbit hutches, chicken coops, horse stables, alpaca barns, worm bins and outhouses. We did many pot trials and several field trials with the resulting biochar composts. We found that most of the participating farmers could produce biochar at a labor cost of about $100/cubic yard.
We produced a final technical report and a series of Practice Guidelines to help others implement their own projects. The report and the Biochar Practice Guidelines are free  to share with attribution. Please distribute widely. Updates to the Biochar Practice Guidelines will be available at UBETBiochar.blogspot.com and WilsonBiochar.com.
Here is the section Kelpie Wilson most wants to share:
https://www.dropbox.com/s/gr24dxgpzui9hys/Biochar%20Manure%20Practice%20Guidelines-all.pdf?dl=0
______________________________________
The weather finally cooperated for the recent Conservation Burn workshop at Circle Bar Ranch. We want to thank all of our attendees for their interest, Cuauhtemoc Villa and Alana Fichman for their knowledge and assistance, and especially our Circle Bar host, Sue Smith, for her ongoing support of this program.  (A special shout-out to equipment operator Jerry!)  Here are a few images from the event.        Photos by Raymond Baltar




______________________________________
SBI/SEC Gives Conservation Burn/Biochar Training to the Staff at the Elkhorn Slough National Estuarine Research Reserve

We  recently gave a workshop at the Elkhorn Slough Research Reserve, a beautiful state research facility located in Moss Landing on the Central Coast. Both the conservation open burn and pit burn techniques were conducted and compared, and in the future they also plan on testing a "Kon Tiki" style kiln.The Reserve has an estimated 9-year supply of invasive Eucalyptus trees that they want to turn into biochar for on-site research.. The biochar will be processed for use as a filtration medium to determine how well it works to prevent local agricultural runoff from entering the Slough—an ongoing problem that can causes algae blooms that kill fish. We are excited to be collaborating with this nationally known conservation and research organization and will soon be working with them on the agricultural nutrient filtration project. Here are a few photos from the training, followed by some photos of the ongoing agricultural filtration project showing the water that needs filtering, the biofilters testing a number of different filtration media, and the results of the filtration efforts—a cleaner wetland.  Photos by Raymond Baltar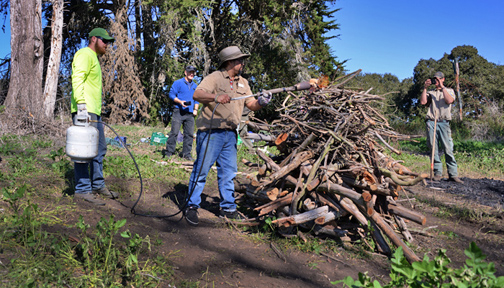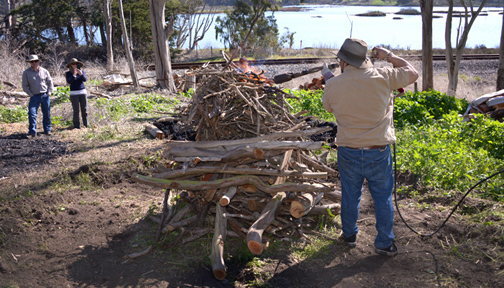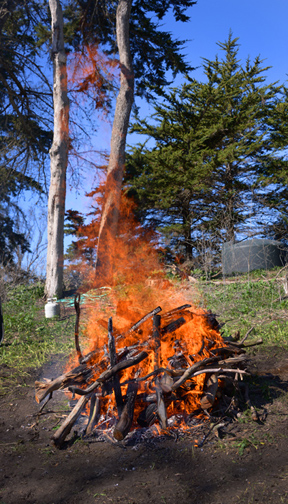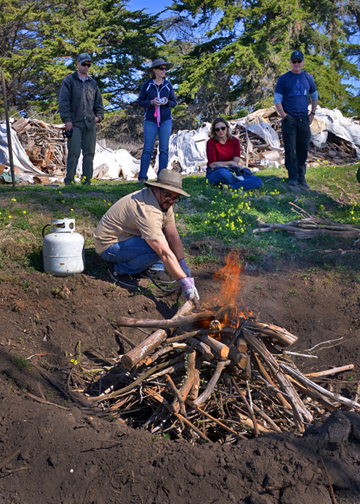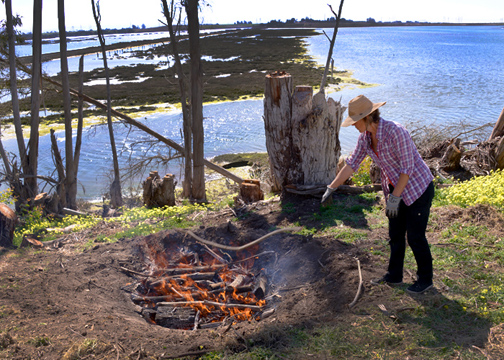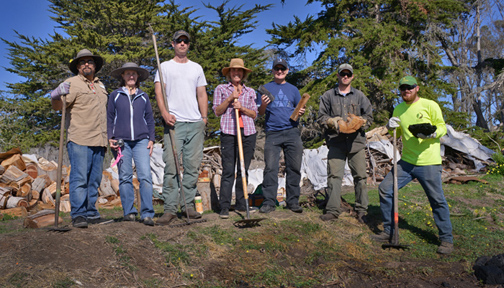 Above:   The Elkhorn Slough Crew (including new Charmaster Bree Candeloro, center!)
Below: The Agricultural Runoff Filtration Study Location Near Watsonville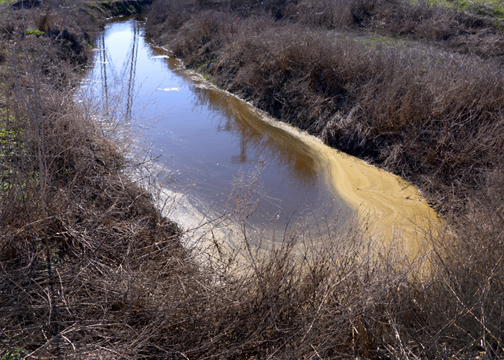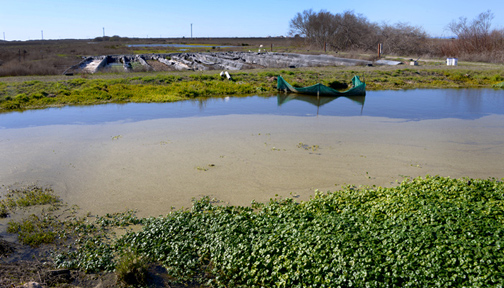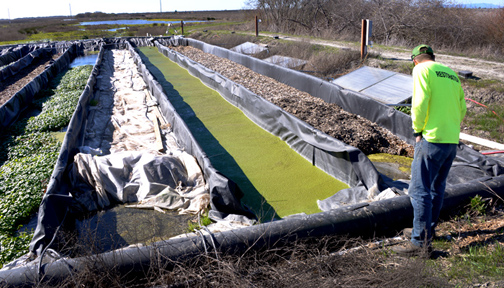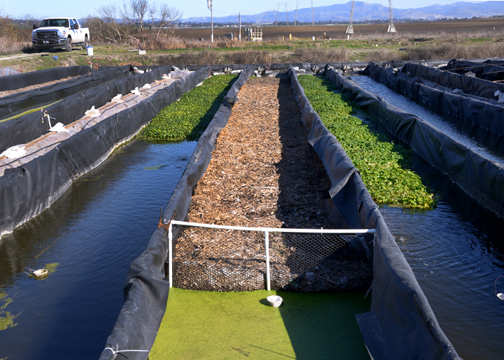 _________________________________________
Update on the SEC/SBI/UCR Department of Water Resources grant project testing biochar's ability to save water in California Agriculture
Below are some photos of UC Riverside and Monterey Pacific Vineyard Management staff installing moisture monitoring equipment at the Oasis Vineyard near King City in Monterey County.  We are excited to start cataloging field trial data in this vineyard block with extremely sandy soils. Vineyard manager Doug Beck will also be cataloguing pruning weight and fruit production differences between the control and biochar-enhanced vine rows, and UC Riverside is measuring before and after application microbial population differences as well. Photos by Doug Beck and Raymond Baltar.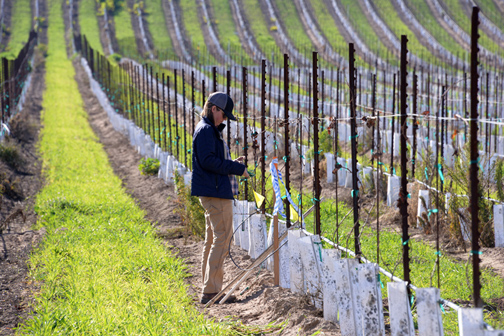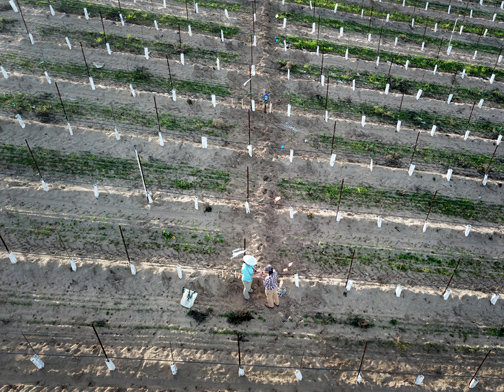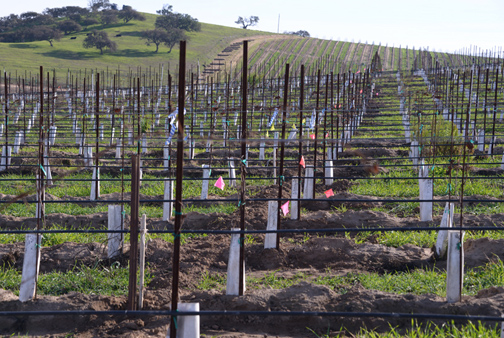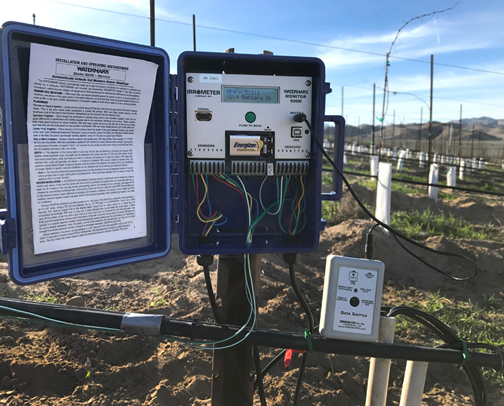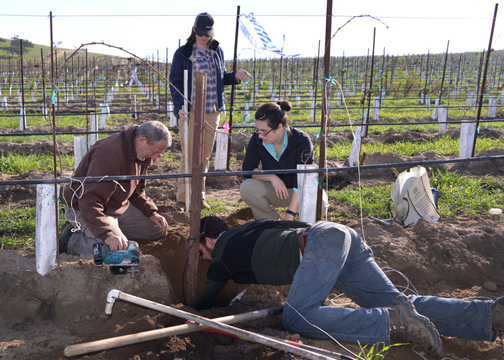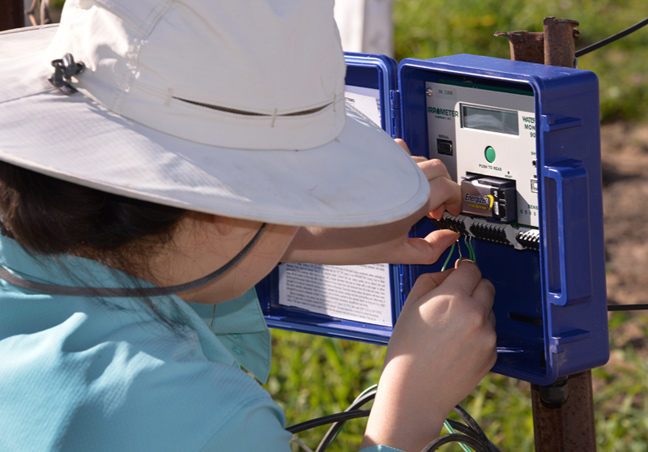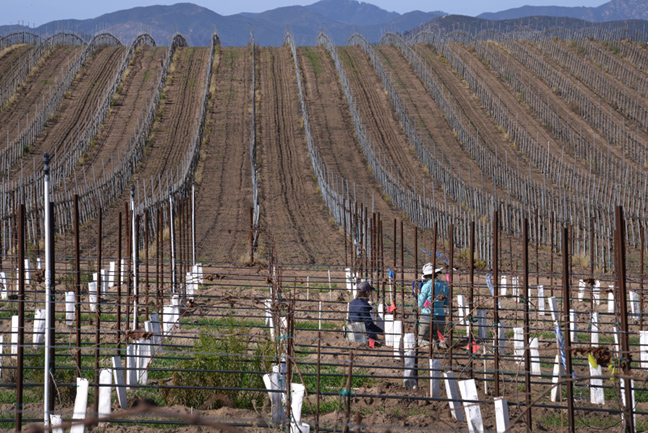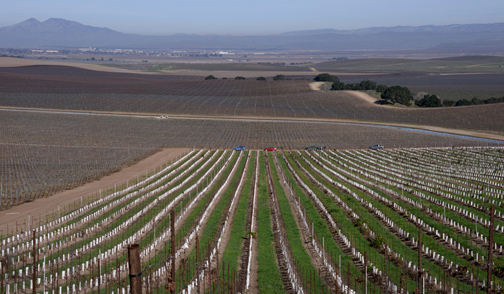 Below: Gathering soil samples for microbial analysis.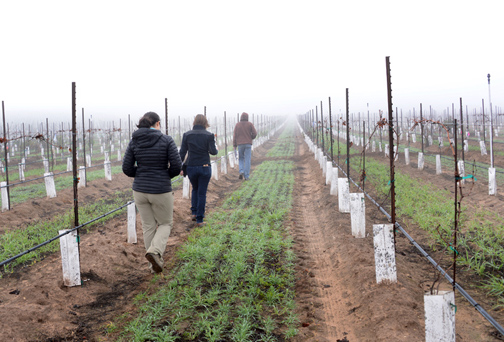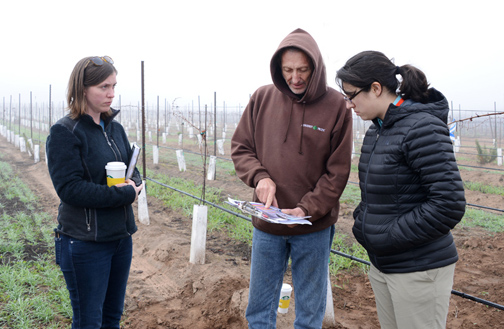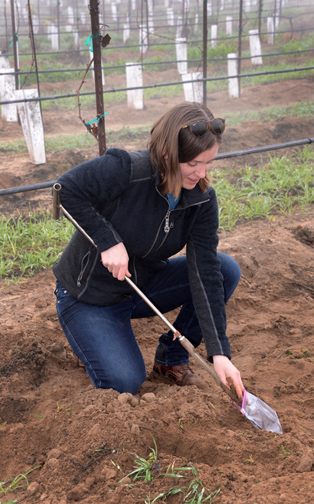 _________________________________________
Global Biochar Market Size Expected to Reach $585.0 Million by 2020.
According to a report by Zion Market Research, the global market was valued at approximately USD 260.0 million in 2014 and is expected to reach approximately USD 585.0 million by 2020, growing at a CAGR of around 14.5% between 2015 and 2020.
To learn more, go here.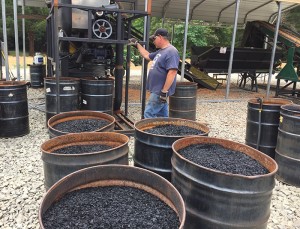 _____________________________________________________
Testimony and photos below from Patrick Norton, Assistant Vineyard Manager, Chalk Hill Estate Vineyards:
"Thank you again for a great seminar last week. Your educational and inspirational biochar workshop has changed the way I look at burning and soil fertility.  Much appreciated! Conservation burning is so much cleaner and more effective. I will never burn conventionally again if I can avoid it.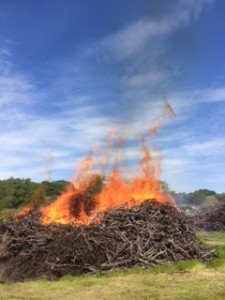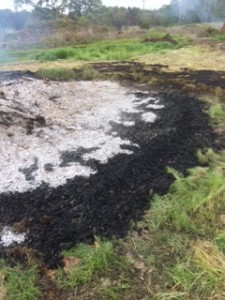 Grant News
Sonoma Ecology Center, Sonoma Biochar Initiative and UC Riverside Awarded Biochar Research Grant from California's Department of Water Resources!
Sonoma Ecology Center and the Sonoma Biochar Initiative, in collaboration with Dr. Milt McGiffen of UC Riverside, several RCD's, and farmers up and down the state, have been awarded a research grant to conduct major biochar field trials in California. We are seeking definitive scientific data to determine whether biochar use can save farmers money through water savings. We are planning to start the field trials at 3 farms this Spring. 
Lastly, we have applied to the Bay Area Air Qualify Management District's (BAAQMD) educational grant program to fund emissions research that would provide hard data showing the differences between the Conservation Burn technique we have been developing vs a typical open agricultural burn. During a recent Farm Bureau presentation on open burning and other air emissions regulatory policies the BAAQMD's representatives expressed an interest in the Cconservation Burn and we have invited them to attend our upcoming training (see below).  We believe that obtaining the hard data differences between the traditional and conservation burn practices would help push policy changes and broader farmer support for this simple yet dramatic way to reduce pollution while also producing biochar.
_____________________________________________________
Biochar for Carbon Removal from the Atmosphere  (From the IBI Website)
In the October 21 issue of Nature Communications Woolf et al demonstrate that biochar could play an important role in removal of carbon from the atmosphere, which is increasingly recognized as essential to meeting global climate targets.  Woolf compared biochar-bioenergy systems with bioenergy alone and gasification-based bioenergy with carbon capture and storage, known as BECCS. In its 2014 report, IPCC flags BECCS as the only major land-based approach expected to draw down atmospheric carbon dioxide. However, Woolf demonstrates that biochar-bioenergy systems that sequester carbon in agricultural lands could reduce carbon sequestration costs, allowing earlier adoption of a more aggressive policy of actively removing carbon from the atmosphere to avert dangerous climate change. Biochar-bioenergy competes favorably with BECCS at lower carbon prices, and where biochar addition to soils delivers significant increases in crop yields. Thus, effective use of biochar as a carbon removal strategy relies on identifying those sites that are most responsive to biochar.
This requires similar knowledge systems as those commonly in place around the world to guide fertilizer application.  Averaged across all published scientific experiments, biochar increases crop yields around 20% with application rates often exceeding 10 t/ha. However, applications of less than 5 t/ha can increase crop yields by over 50% in certain types of soils. Even highly productive agricultural lands contain patches of degraded soils that would benefit from biochar application. Precision agriculture can deliver biochar to specific field locations where it can provide the greatest soil benefits.
Biomass energy in combination with carbon sequestration has enormous potential as a carbon removal strategy.  However, biomass is a widely dispersed resource best suited to small-scale, distributed bioenergy systems. In contrast, sequestration of carbon dioxide is necessarily a large, centralized operation to enable separation and injection of carbon dioxide into carefully selected geological deposits.  This mismatch in scale between bioenergy production and carbon dioxide sequestration is a challenge for gasification-based BECCS.  The relative simplicity of producing and sequestering biochar results in biochar-bioenergy systems that can be built at modest scale and widely distributed.  Their small size reduces the risk of deploying new technology, eases financing, and speeds adoption.  Biochar-bioenergy systems can play an important role in a global strategy to actively remove carbon from the atmosphere.
_____________________________________________________
Biochar Field Production Added as an NRCS Conservation Enhancement Practice
The Natural Resources Conservation Service (NRCS) announced an amendment to the Conservation Stewardship Program (SCP), adding biochar production from woody residue as a conservation enhancement practice.  This practice supports and encourages the production of biochar following fuels reduction harvests or post-wildfire forest regeneration.  You can download the PDF on the here:  e384135z
This conservation enhancement practice officially defines and supports work done by SBI over the last 4 years training farmers and foresters about the Conservation Burn technique that reduces smoke pollution while also producing biochar, as well as work done by Kelpie Wilson teaching forestry professionals how to use flame-cap kilns in Southern Oregon.
_____________________________________________________
Biochar Workshops and Conservation Burn Training
Here are a some photos from past trainings:
Four staff members from Sonoma Ecology Center's Conservation Burn program trained Cakebread Vineyards staff, Wolf Vineyard management staff and workers on this top-down burn technique. Over a two-day period 12 large piles were burned cleanly, yielding about 15 yards of biochar to be used in the winery's garden next fall. The biochar will be crushed and added to compost for seasoning over the summer.
_____________________________________________________
And as a reminder of how NOT to burn, here is a pile burned in the typical way— 
photographed recently in the Sonoma Valley.
 _____________________________________________________
_____________________________________________________
_____________________________________________________
_____________________________________________________
Save Save Save Save Save Save Save Save Save Save Save Save Save Save Save Save Save
Save
Save
Save
Save
Save
Save
Save
Save
Save
Save
Save
Save
Save
Save
Save
Save
Save
Save
Save
Save
Save
Save
Save
Save
Save
Save
Save
Save
Save
Save
Save
Save
Save
Save
Save
Save
Save
Save
Save
Save
Save
Save
Save
Save
Save
Save
Save