Sonoma County Biochar Project Events Planned
Two events are planned to unveil an innovative new project that will produce a
soil amendment called biochar.
On Thursday, November 6, a new biochar production unit – known as an Adam
Retort – will be demonstrated at Swallow Valley Farm in Valley Ford. On
November 7 through 11, a "Biochar School – Appropriate Technology for
Small Farms" program will be held at this same locale to educate the
agricultural community about this technology, which can increase soil
fertility and crop yields while conserving water. (Details below for both
events.)
Community representatives and press are invited. "It will be an
excellent opportunity to understand all the ins and out of how biochar can
best be used to sequester carbon and at the same time enhance the moisture
of the soil to better withstand drought, " said Nick Colby, owner of
Swallow Valley Farm.
"Local farmers have been hard hit by the drought. Biochar offers a way for
them to use less water while improving soil quality," said Dr. Morell.
"The field trials we are conducting at three local farms will help
identify and prove the specific benefits available to Sonoma County
farmers."
Char will be made from prunings, felled trees, and clean woody debris
collected from local sources. The uniquely scaled biochar unit
manufactured by New England Biochar produces roughly ¼ to ½ ton of char
per week to supply the project's field trials. The biochar is mixed with
compost and then applied to amend the soil. Typically, this
biochar/compost mixture is applied in similar manner to the farm's typical
compost application regime. Carbon is sequestered in the form of increased
soil carbon.
"Once again, Sonoma County is on the cutting edge when it comes to
reducing greenhouse gas emissions—or in exploring ways to sequester carbon
and support agricultural viability ," said Richard Dale, Executive
Director of Sonoma Ecology Center.
Biochar has many agricultural and environmental benefits, including its
ability to:
• Increase soil organic matter and conserve water
• Increase fertility and crop yields
• Reduce greenhouse gas emissions
• Aid in recycling waste woody biomass for reduced fire risk
• Sequester carbon
The project's three local agricultural operations at which this strategic
approach to sustainable resource management will be tested — Swallow
Valley Farm (Valley Ford), Green String Farm (Petaluma), and Oak Hill Farm
(Sonoma) — represent various soil types, micro-climates, terrain, and
agricultural operations. Project objectives include evaluation of
application methods, water use, crop yields, and soil health
characteristics using USDA National Resources Conservation Service
(NRCS)-approved protocols on these varying site types. "The use of biochar
on the landscape holds great potential for improving soil quality and
moisture retention," stated Jennifer Walser of Petaluma NRCS "NRCS is
currently funding a Conservation Innovation Grant to assess biochar use,
research and long-term application in the field."
The Sonoma County Biochar Project is a partnership between Sonoma Ecology
Center, Gold Ridge Resource Conservation District (RCD), North Coast
Resource Conservation & Development Council (NCRC&DC), USDA Natural
Resources Conservation Service (NRCS) and the Sonoma County Water Agency
(Water Agency). Additional funding is being provided from the Appleby
Foundation with in-kind contributions from all three local farms providing
sites for research, labor and materials.
Project Partners include:
http://www.scwa.ca.gov/
http://www.ncrcanddc.org/
http://www.nrcs.usda.gov/wps/portal/nrcs/site/national/home/
EVENT DETAILS
Biochar Demonstration
DATE: Thursday, November 6, 2014
TIME: 10am – 12pm
LOCATION: Swallow Valley Farm, 1100 Freestone Valley Ford Rd, Valley Ford,
CA 94972
Biochar School
DATE: Friday, November 7-Tuesday, November 11, 2014
LOCATION: Swallow Valley Farm, 1100 Freestone Valley Ford Rd, Valley Ford,
CA 94972
The Biochar School Registration
_________________________________________________________________________________________
Mendocino County Biochar Workshop &
Conservation Burn Training
Earlier this year we held a series of Conservation Burn Workshops and we want to thank the Redwood Forest Foundation, Inc. and the Woody Biomass Working Group, for their support in presenting the Mendocino County event.  We also want to thank Mary Anne Landis (and the City of Ukiah) and Judith Harwood for helping us with logistical support, and Mac Magruder and Kyle Farmer of Magruder Ranch for their kind hosting of the afternoon conservation burn event.
The workshops brought together a diverse group of interested people that included Frank Shields of the Biochar Lab, Robert Scaglione of the Mendocino County Air Quality Management District, Mary Anne Landis, Ukiah City Councilperson, Joseph Brinkley of Fetzer Vineyards, and Jess Arnsteen of Parducci Cellars, among many others. There is definitely some buzz about biochar in the grape-growing community, and we now have the ear of the local air management districts as well.
Below are some photos from the conservation burn workshop in the afternoon at Magruder Ranch: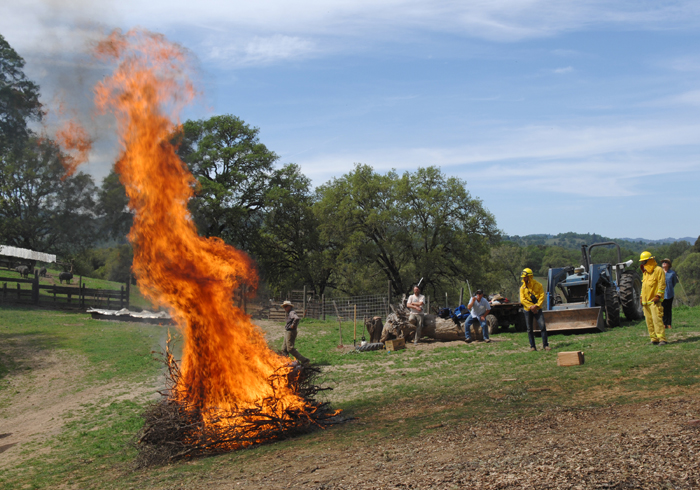 __________________________________
________________________________________
The workshops given at Circle Bar Ranch on March 21st were a great success. Below are a few images from the conservation burn training. If you are interested in learning more about how to minimize the pollution generated by your open burns let us know and we will put you on our mailing list for future events.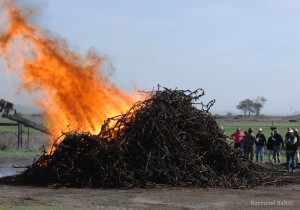 __________________________________________________________________________
The Sonoma Biochar Initiative recently completed the Final Report on the 2013 Citizen Science Project, a study funded by the Mental Insight Foundation, that engaged and educated local gardeners in the use of biochar. Click on the Citizen Science link above and scroll down to download the full report.
__________________________________________________________________________
SBI, in partnership with the Community Alliance with Family Farmers and the Farm Bureau, held a successful conservation burn workshop on Feb 14th for 40 participants at SRJC's Shone Farm facility near Forestville.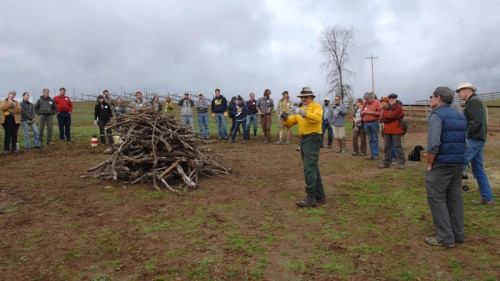 Presented by SBI Board member Peter Hirst as a 4-hour hands-on, field and classroom training, participants learned how to conduct open burns that generate less pollution while also making biochar.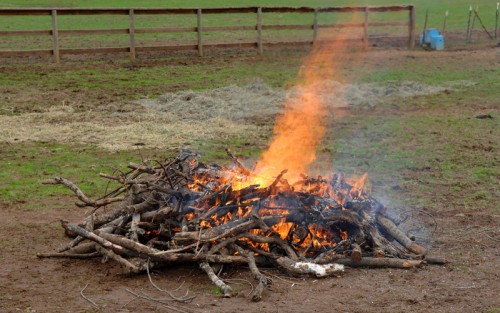 __________________________________________________________________________
PRESS RELEASE:
Sonoma Ecology Center Receives USDA Grant, Kicks Off Biochar Project
The Sonoma Ecology Center and the Sonoma Biochar Initiative have received $75,000 in support from the US Department of Agriculture's Conservation Innovation Grant (CIG) program to establish this county's first integrated biochar production system. These federal funds are being matched by $75,000 from the Sonoma County Water Agency and $83,000 of in-kind support from three local farms where the biochar will be applied. Other partners in this project include Gold Ridge Resource Conservation District and the North Coast Resource Conservation & Development Council's Cultivating Commerce initiative.
Biochar is specialized charcoal used as a soil amendment. It is produced through pyrolysis, a chemical process that reduces woody feedstocks to char and releases fuel gases that are burned to maintain the reaction and provide renewable energy. The remaining product is nearly pure carbon: biochar.
Biochar has been known for many years, but its wide adoption is just emerging in California and elsewhere. In recent years its benefits have been studied sufficiently to indicate a high probability of success in the integrated structure proposed here. The new Sonoma County Biochar Project is intended to prove locally available research results from elsewhere that biochar will build soil, conserve water, improve agricultural productivity, and improve forest practices — all while replacing greenhouse gas emissions with sequestered carbon in individual farming operations.
The Ecology Center's new unit, called an "Adam Retort," will be located at Swallow Valley Farm in western Sonoma County, where the team will produce biochar and apply it to onsite farm operations. As much as possible, biochar will be produced for on-farm use from woody resources available there. The biochar will also be applied at Green String Farm near Petaluma and Oak Hill Farm near Sonoma, allowing a full demonstration and evaluation of its impacts on varied Sonoma County agricultural production. SEC, GRRCD and NCRC&DC will carry out education and outreach regarding biochar to potential agricultural users throughout the area, allowing leading farmers and growers here to recognize the benefits of integrated biochar production and application.