The Sonoma Biochar Initiative (SBI), founded in 2009, is a project of the Sonoma Ecology Center (SEC) [www.sonomaecologycenter.org]. We are dedicated to promoting biochar education and its sustainable production and use throughout California. We collaborate with our strategic partners to educate local farmers, foresters, vineyard managers, government officials, and other stakeholders on the advantages of producing biochar to better utilize surplus materials coming out of our forests to reduce fire hazards and improve community resiliency, and then using the biochar to enhance agricultural productivity while reducing GHG emissions.
SBI views accelerated use of biochar as the key to soil restoration and recovery, as a watershed management tool, as way to help reduce mined industrial inputs like construction aggregates, sand, and coal-based activated carbon, as well as a "fast mitigation technology" being cited increasingly in international climate talks. Through grant funding SBI has established or contributed to several local and state demonstration projects for biochar production and application, and experimenting with available agricultural and urban yard waste biomass feedstocks.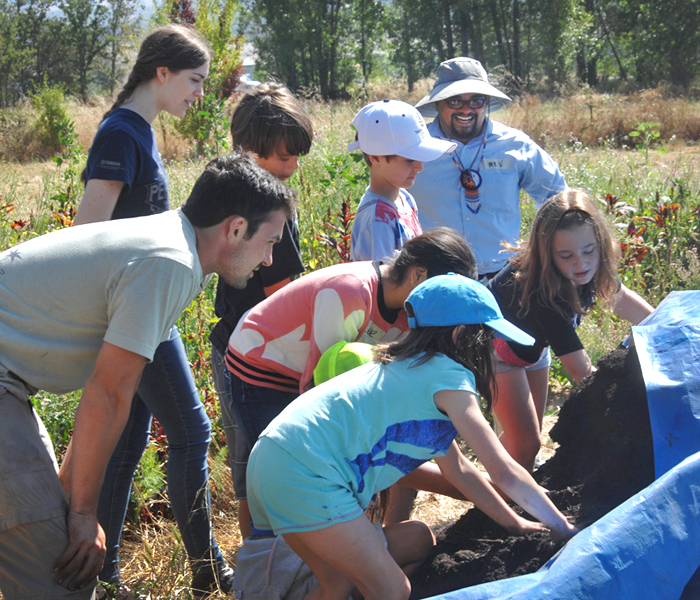 SEC environmental teachers Cuauhtemoc Villa and Tony Passantino teach a group of children about how compost is made, and how charcoal enhances its effectiveness at building rich, beautiful soil.
After a long hiatus, we are planning a number of community meetings in 2019 that will educate the general public about biochar and its many beneficial uses, and its potential as a GHG reduction strategy. Biochar production can play a key role in helping to manage the materials generated by improved management of our forests and watersheds, as well as increase soil organic matter to our farms and rangelands, and we are looking to spread this message. If you are interested in attending an upcoming meeting please sign up for our mailing list.
SBI's core Principals each bring unique skills and expertise to the organization:
*Raymond Baltar, Director, a sustainability consultant, local businessman, and professional photographer is focused on integrating business principles with energy conservation and environmental sustainability. Mr. Baltar served on the Executive Committee of the Sierra Club, Redwood Chapter and on the Steering Committee for Solar Sonoma County. He completed a "Green MBA" graduate degree in Sustainable Enterprise from Dominican University in 2011.
*David Morell, PhD, a specialist in global environmental and energy policy, retired in 2007 as CEO of an environmental consulting firm. Dr. Morell previously served as a senior official of the US Environmental Protection Agency and in California state government and has many years of experience in university teaching and research.
*Richard Dale has served as SEC's Executive Director for 20 years. Programs at the center focused on research, education, and restoration have gained a statewide reputation for excellence. Mr. Dale is recognized widely as one of Sonoma County's leading environmentalists.
*Susan Haydon, conservation planner, policy maker, and dirt nerd.  Ms. Haydon's 30-year calling is founded on planning for a sustainable future and fostering a sense of place through community engagement and deep appreciation of our natural systems and working lands. Project manager for Sonoma County Water Agency on water management and climate adaptation initiatives. Organic consultant to Marin & Sonoma County farms.  City of Rohnert Park Planning Commissioner.
*Ray Gallian, SBI's initial founding member, has focused on biochar technology and its uses over the past several years. Mr. Gallian works primarily on education and outreach to expand biochar use.
Other Members:
Henry Hickey
Ed Clay
Charles Berkstresser / Tragaluz
Matthew Banchero
Jake Blehm
Benjamin Colby / Swallow Valley Farm
Laurie Gallian
Joan Linney
Justin Smith
John Schroeder
Kelpie Wilson
Michael Wittman
Philip Small
Frank Shields
Adam Seger
Janet Laughlin
Jerome Chambliss
Debbie Hanmer
Save