Sonoma County Biochar Project
The Sonoma Biochar Initiative and the Sonoma Ecology Center hosted a demonstration of their innovative new "Adam Retort" biochar production unit. Having this unit has been a long-term goal of Sonoma Biochar Initiative (SBI), a project of Sonoma Ecology Center, making it a very special day for these organizations dedicated to sustainable farming and ecological practices. The Adam Retort brings with it the opportunity to explore the economic, water conservation, and agricultural benefits of biochar, locally.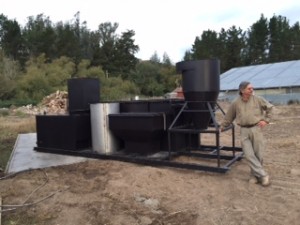 The Adam-Retort delivered.
The demonstration was an up-close and personal look at the unit and production process, as well as providing opportunity for direct dialogue with the designer and manufacturer of the Adam Retort, Bob Wells.
This project is studying the benefits of biochar in terms of improvement of soil quality and water conservation, as well as evaluation of application methods and crop yield. A sustainable resource management strategy, use of biochar promotes water conservation, soil improvement, greenhouse gas reduction, carbon sequestration, and more. Made from woody biomass and then mixed with compost, this highly efficient substance enriches the soil, increasing soil moisture and carbon. Project partners are working together to offer on-farm workshops covering the basics of biochar, use and practices and its many conservation benefits.
 In attendance were members of Resource Conservation District, Sonoma County Water Agency, Climate Protection Campaign, Gold Ridge Resource Conservation District, Regenesis, US Biochar Initiative, Sonoma Ecology Center, permaculture experts and two water and sanitary agencies.
About Sonoma Ecology Center
Sonoma Ecology Center was established in 1990 with a mission to work with our community to enhance and sustain ecological health in Sonoma Valley through community-supported research, restoration and education.
Sonoma Ecology Center's programs and initiatives increase appreciation and stewardship of our natural heritage and create measurable benefits in the areas of water, resources, biodiversity, energy and land use. Information about Sonoma Ecology Center can be found on our website.
________________________________________________________________________
Sonoma Ecology Center has begun work on a collaborative project funded by a USDA Natural Resources Conservation Service (NRCS) Conservation Innovation Grant with support from the Sonoma County Water Agency (SCWA). The Sonoma County Biochar Project features production of biochar from local wood wastes, field testing of its use and effectiveness at three local farms, and demonstration of renewable energy capture and use. Gold Ridge Resource Conservation District (GRRCD) and North Coast Resource Conservation & Development Council (NCRC&DC) are project partners.
Biochar is a specialized form of charcoal made at relatively high temperatures in the absence of oxygen (in a process termed "pyrolysis"). Combined with compost or similar innoculant, it has been demonstrated to improve soil health, retain soil moisture, increase crop yields, and sequester carbon. To produce biochar, SEC will install an "Adam Retort" unit at Swallow Valley Farm near Valley Ford in west county. This steel unit can make about 500 pounds of biochar per day from locally available waste wood, diverted from land disposal or burning.
The SEC team tested this biochar's impact in controlled experiments at Oak Hill Farm (near Sonoma), Green String Farm (near Petaluma), and onsite at Swallow Valley Farm.
Download research results from the Oak Hill Farm field trial here:   oak-hill-farm-biochar-results
For further information about the Sonoma County Biochar Project, contact Dr. David Morell, Project Manager, at (707) 996-0712 ext. 108 or davidm@sonomaecologycenter.org.
For more information about biochar in Sonoma County, visit Sonoma Ecology Center's partner and sponsored organization, Sonoma Biochar Initiative.